Nissan LEAF vs. the Nissan Ariya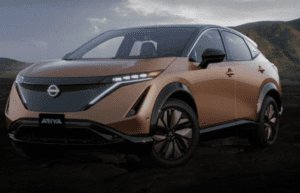 New Nissan Inventory
Nissan LEAF Vs. the Nissan Ariya
Why Choose The Nissan LEAF?
Is it getting too inconvenient to stop by a gas station? Are you growing frustrated with the recent gas price inflation? Well do not panic, the new Nissan LEAF is a fully electric vehicle available at Rosen Nissan Milwaukee. This hatchback is designed to allow the driver to have an advanced and fully-electric driving experience.
Flagship Electric Vehicle Engineering
The 2022 Nissan LEAF has an EPA estimated range of 226 miles and has been on the market for over a decade. The vehicle has a fast and efficient charging feature. The LEAF is an environmentally friendly option for Milwaukee area drivers that gets better every year.
State Of The Art Nissan LEAF NissanConnect App
We implemented our own app to link up with the LEAF's system. You can have full control over essential aspects of your vehicle.
Please take a moment and think about how fantastic it would be to warm or cool down your car from the comfort of your home, a restaurant, or work. The app allows drivers to always be in the know of the status of their vehicle's battery life.
You can also view the exact cabin temperature, lock and unlock the doors, and get an exact estimate of the vehicle's range.
Why Choose The Nissan Ariya?
Are you hesitant to possibly drive through harsh weather conditions in an electric vehicle? The all-new Nissan Ariya SUV, which is expected to arrive in the Fall of 2022 to Rosen Nissan Milwaukee, will put any second thoughts to bed. The Ariya displays an array of impressive components including luxury, safety, and high tech features.
This dynamic vehicle allows drivers to be up to date with the newest technology, yet at the same time it exhibits a strong presence in the face of a harsh climate.
High Tech Capabilities And Driver Assist
The new Ariya features the ProPilot Assist 2.0. This multipurpose system gives the driver the ability to be assisted while they are cruising on the road. The setup includes self driving, lane changing assistance, a 360 degree camera which detects surrounding vehicles, and the ability to sense and stop for upcoming vehicles.
Nissan Ariya Interior
The inside of the new Ariya contains a sunroof which expands to the back row seating, an adjustable center console, and a fair amount of second row legroom.
Snow And Ice Performance
In a period of inclimate weather, you can ride with confidence knowing the e-4orce all wheel driving system is installed. This supportive aspect gives the all-electric Ariya a stable base so you do not slide and veer in different directions due to slick and icy roads.
Get The Nissan LEAF Or Reserve Your Nissan Ariya in Milwaukee
Both Nissan models bring an assortment of features to the table. If you are interested in either eclectic car, please contact us at Rosen Nissan Milwaukee.