What's New In The 2023 Nissan Pathfinder?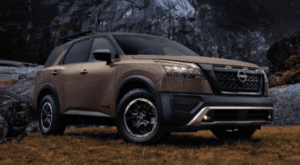 Have you been wondering what exactly are the new features inside of the 2023 Nissan Pathfinder? If so, our team here at Rosen Nissan Milwaukee is here to fill you in on all of the new aspects of the 2023 Nissan Pathfinder to look for. The Pathfinder is a dynamic vehicle with an abundance of game changing features which will be certain to improve your overall driving experience. The Pathfinder has added a few more of those key features which will make your time driving even more enjoyable.
Take your next adventure or road trip to new heights with the 2023 Nissan Pathfinder and its newest model called Rock Creek. The Rock Creek is a durable and efficient vehicle which is built for off roading scenarios.
Off-road technology comes with this model. This system gives you multiple angles of the road ahead and will help you get past some of the toughest terrain. It will also give you an indication which will dictate whether you can get past the irregular terrain.
This comes with 4×4 all terrain tires, off-road tuned suspension, and a tubular roof rack. This vehicle also has 6,000 lbs of towing capacity. This number can help you open many doors in regards to the options of items you can bring along for the ride. These include items such as boats and campers.
You will be able to obtain new upgrades such as two tone colors including Baja Storm for a sporty and outdoors feel.
Purchase A 2023 Nissan Pathfinder in Milwaukee
The 2023 Nissan Pathfinder presents a new dimension of the Pathfinder line with the incorporated adventurous features. If you are interested in the Pathfinder, please contact us and search the inventory once it becomes available at Rosen Nissan Milwaukee.