Which Nissan Vehicles Have 3rd Row Seating?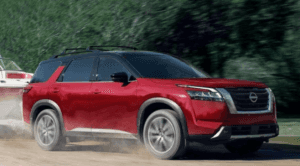 Are you looking for a vehicle to accommodate your large family or carpools with friends? The Nissan Armada and Pathfinder both contain third row seating, which are all available at Rosen Nissan Milwaukee. Take a look at our used car inventory and new car inventory to view all of the options available. These can be seen by selecting the third row seating filter on the top of the page.
What Else Am I Getting With These Vehicles?
Third row seating is essential for those larger groups you take to dinner or on a road trip. The extra space, which goes without saying, opens up so many avenues for family and friends who want to travel together rather than separately. While this feature is desirable, these vehicles also have some more tricks up their sleeve, I'll explain.
The Nissan Pathfinder and Nissan Armada
The Nissan Pathfinder has a backup camera which can be vital in a situation where you have a number of passengers inside. The backup camera will assist you so you don't have to try to maneuver your vision past potentially three people in front of the back window.
Heated seating comes with both the Pathfinder and Armada which also have third row seating. Not only do you make everyone happy by going as one group but you can also offer a little protection from the brisk Milwaukee weather.
Both models allow your passengers to cool off from some Midwest heat in the summer with rear A/C. Imagine everyone getting into a vehicle which will leave everyone happy with a reasonable temperature. This feature avoids any potential conflict over the front passenger getting the preferential treatment over the others.
Purchase A Vehicle With 3rd Row Seating In Milwaukee
Third row seating can help in a number of ways and coupled with the few features from above, your group will want to carpool in your vehicle every time. If you are interested in either of these Nissan models, please contact us at Rosen Nissan Milwaukee.